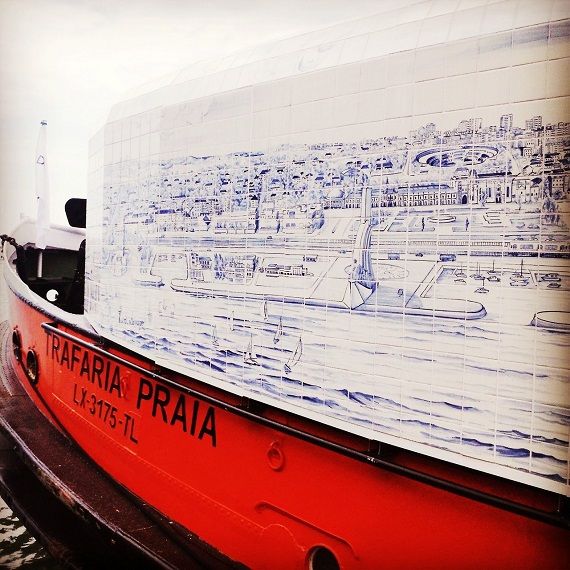 Joana Vasconcelos, Trafaria Praia, Bienal de Arte de Veneza, Itália, 2013. Fotografia de Gabriela Vasconcelos, via O meu iPad veste Prada. Este texto só está disponível em Inglês.
It's been a long journey for the
Trafaria Praia
, a Lisbon ferry converted into a floating pavilion by
Joana Vasconcelos
to represent Portugal at the Venice Biennale. Built in Hamburg in 1959 by the German company Schell & Johnhk, this passenger boat was decommissioned in 2011 and was parked on dock waiting to be disassembled.
The artist rescued this object of Lisbon iconography, one of several commuter boats – locally known as
cacilheiros
– that are used to connect the shores of the Tagus, crossing the estuary several times a day. Under the direction of Joana Vasconcelos, the
Trafaria Praia
has undergone a profound process of transformation in a shipyard on the outskirts of the Portuguese capital.
From the official website:
On the outside of the ship, from prow to stern, she applies a large-scale panel of azulejos (tin-glazed, blue and white, hand-painted ceramic tiles) that reproduces a contemporary view of Lisbon's skyline, from the Bugio Tower to the Vasco da Gama Tower. The work takes its inspiration from another large-scale panel of azulejos, the Great Panorama of Lisbon, which depicts the city before the legendary earthquake of 1755 and is a quintessential expression of the baroque-style golden age of azulejo production in Portugal. Vasconcelos has made other works that involve covering objects in azulejos; in doing this she evokes the material's frequent deployment in architecture.

On the ship's deck is an environment made of textiles and light. This also echoes past works by Vasconcelos, such as Contamination (2008–10) and the series Valkyries (2004–ongoing), in which organic, often colorful forms hanging from the ceiling interact with the surrounding architectural elements. This new work consists of a complex medley of blue-and-white fabrics all over the ceiling and walls, from which crocheted pieces, intertwined with LEDs, emerge to create a compelling effect. The installation suggests a surreal, womblike atmosphere or the deep ocean—something out of Jules Verne's Twenty Thousand Leagues Under the Sea, perhaps, or the Bible story of Jonah and the Whale. It envelops visitors, eliciting both an intellectual and a sensorial response.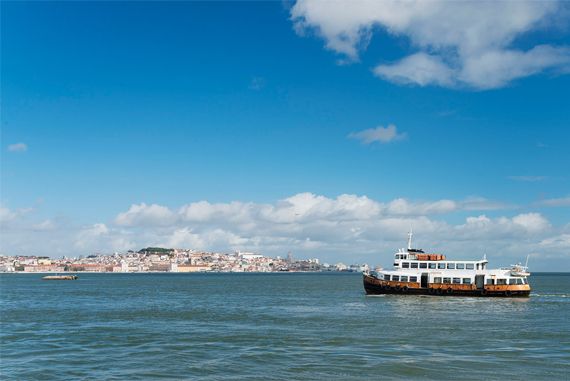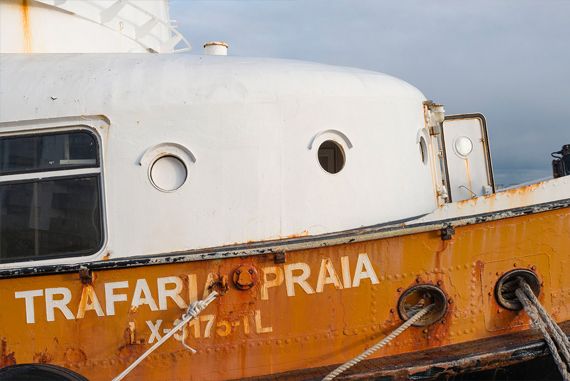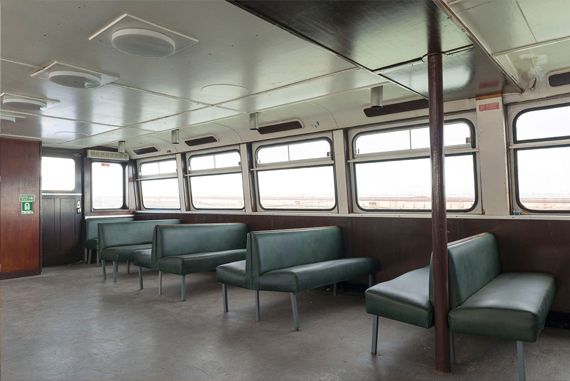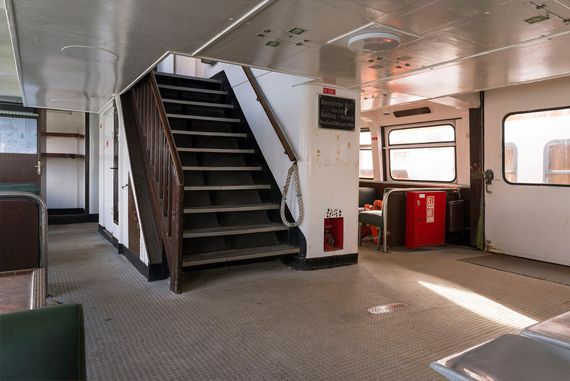 The original Trafaria Praia before the intervention.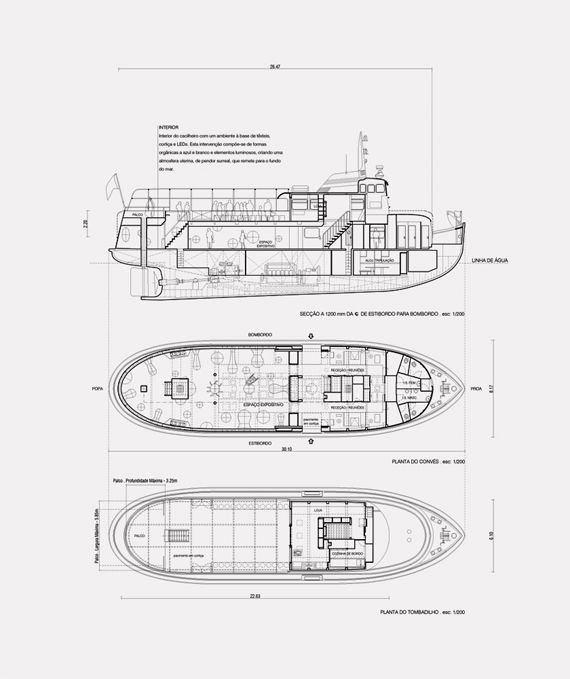 Construction plans.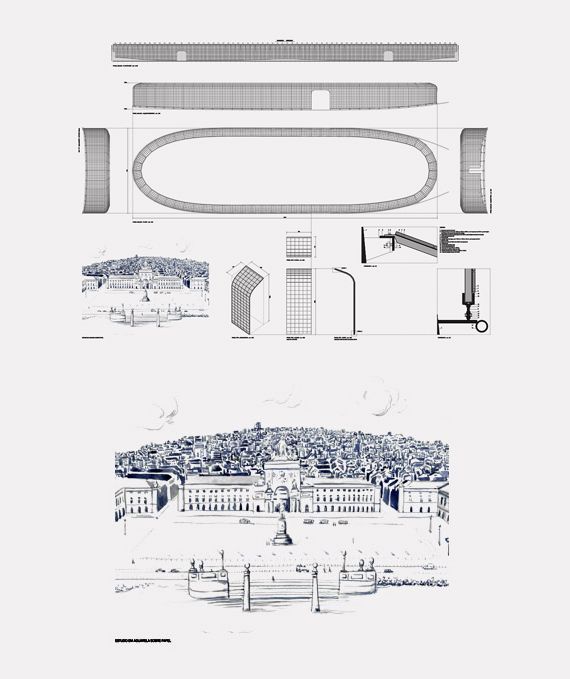 Tile panel layout design and detail.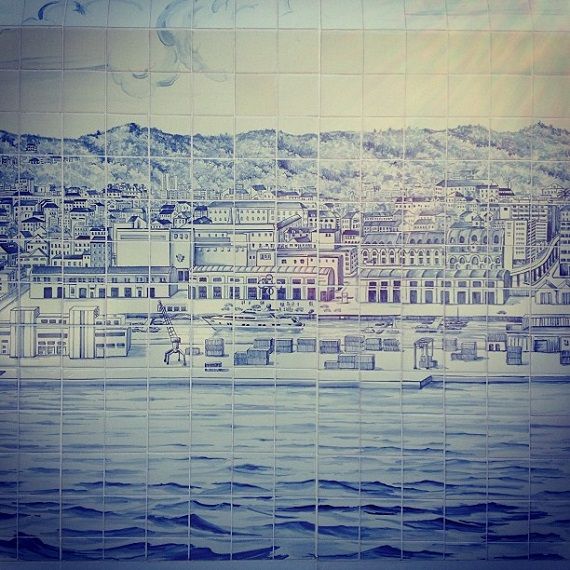 Tile panel (partial view), image by Tiny Domingos, via Areashape.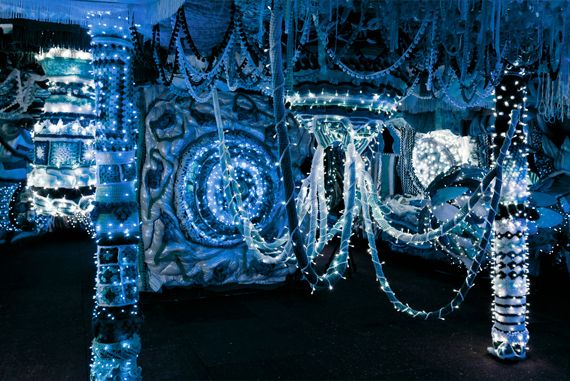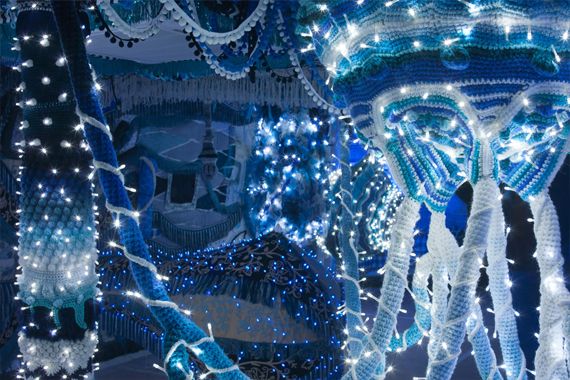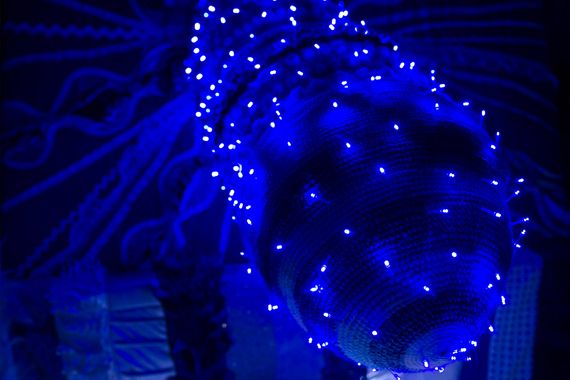 Interior views.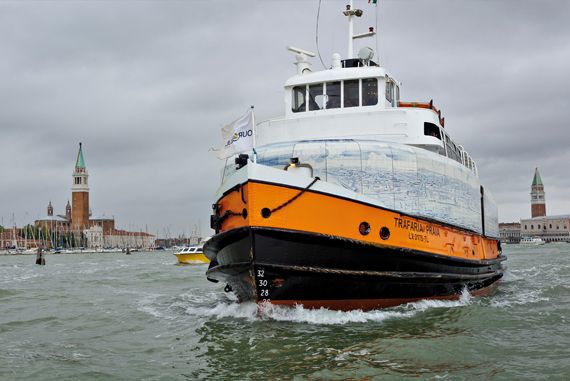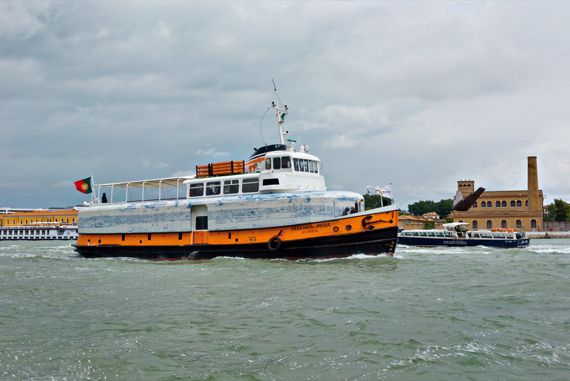 Trafaria Praia
, an intruder in the realm of the Venetian
Vaporetti
, a Portuguese icon cruising the waters of a sibling city. The floating pavilion can be visited until November 24th. More details can be found at
www.vasconcelostrafariapraia.com
.