Olga Sanina + Marcelo Dantas: Pavilhão da Feira do Livro de Madrid
Published Saturday, November 15, 2008.
---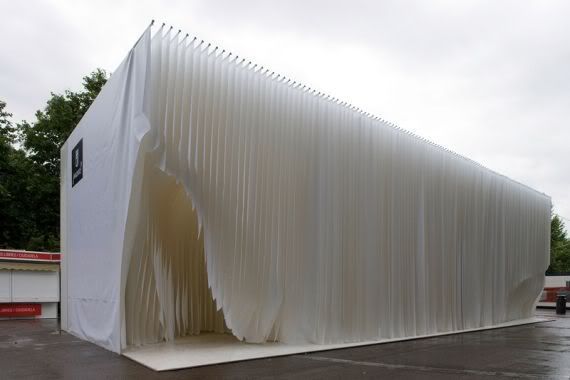 Image credits: Miguel de Guzman, courtesy of the architects. Scroll down to read this text in English.

Com o projecto intitulado La Casa de Librio os jovens arquitectos portugueses Olga Sanina e Marcelo Dantas venceram o concurso internacional para a concepção do Pavilhão do Ayuntamento de Madrid, presente na Feira do Livro de Madrid entre os meses de Maio e Junho deste ano.
Caminhando entre páginas - assim se referiu a blogger Judit Bellostes ao descrever este objecto como um livro construído com páginas, secções verticais e transversais de tela recortadas para formar uma cavidade interior de topografia orgânica.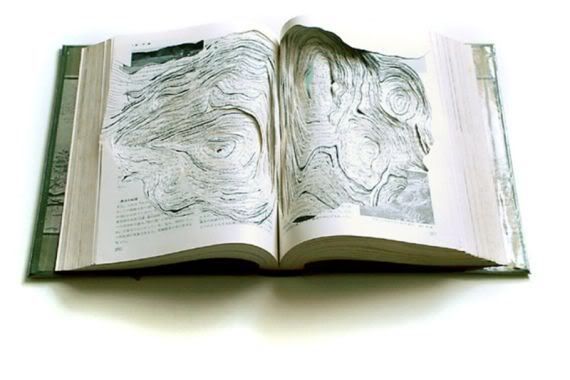 Image credits: Noriko Ambe.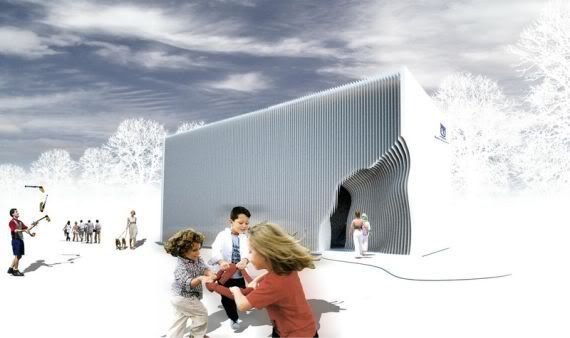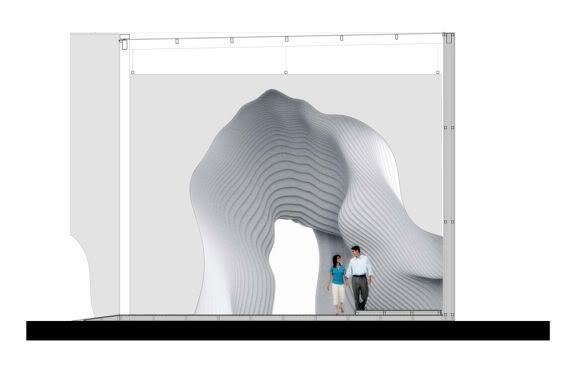 Conceptual design.

Neste projecto o próprio livro se torna em tema de uma instalação efémera. O livro enquanto volume e matéria, de cuja manipulação se criam e modelam espaços.


Esta intenção levou-nos ao encontro do trabalho da artista plástica Noriko Ambe, que nas suas criações desenvolveu extensivamente este tema, manipulando o suporte livro na procura de novas relações de espaço, escala, ritmos e texturas. Reveste-se de especial interesse esta ligação pelo carácter extremamente arquitectónico da sua obra, e pelo modo como esse carácter "regressa" à sua origem e é agora influência sobre o raciocínio arquitectónico que desenvolvemos.
Do seu trabalho fica-nos acima de tudo o confronto de duas regras e sistemas opostos que se cruzam no mesmo objecto formando um todo de leitura unitária. É este todo que procuramos na nossa intervenção. Um todo volumétrico e também espacial, de luz e de sombra, de planos lisos e de texturas ritmadas.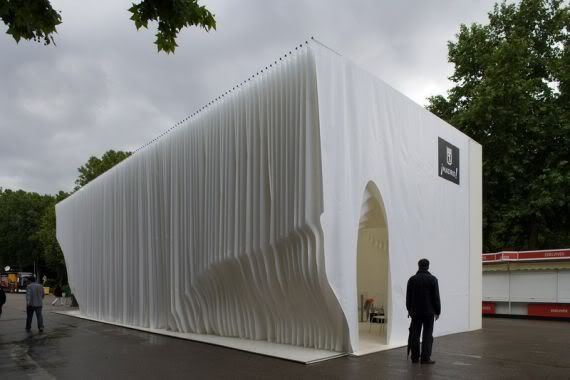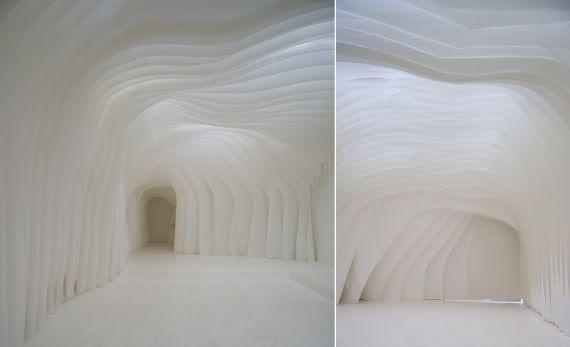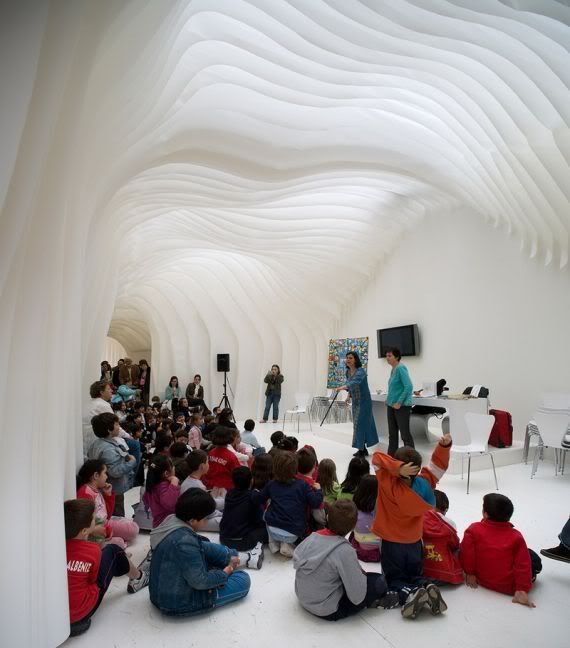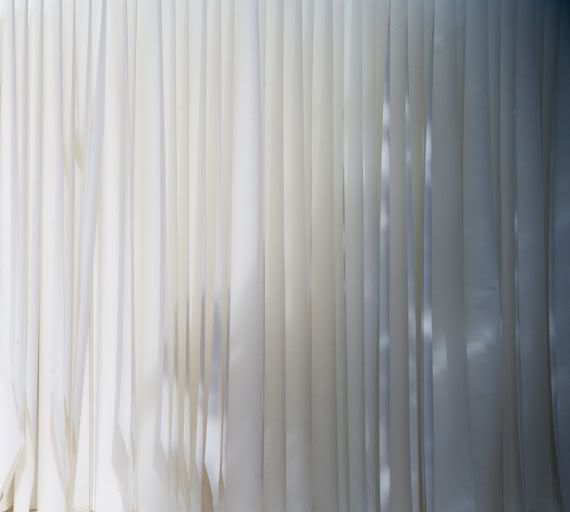 Agora, fazemos outras experiências…o sistema construtivo quase artesanal, a materialidade e a escala próximas do etéreo, a luz interior intensa, filtrada pelas mesmas telas que no exterior convidam ao toque e balançam ao sabor do vento e das sombras que sobre elas se projectam.
Uma sequência de telas origina um volume de leitura dinâmica, entre a opacidade e a transparência, filtrando o olhar para criar um lugar de acolhimento, como um pequeno esconderijo. A regularidade ortogonal do exterior contrasta com o pequeno espaço-auditório interior, onde a vivência é fluida e contínua. Simples como o livro, surpreendente e belo, como os mistérios que neles se encerram.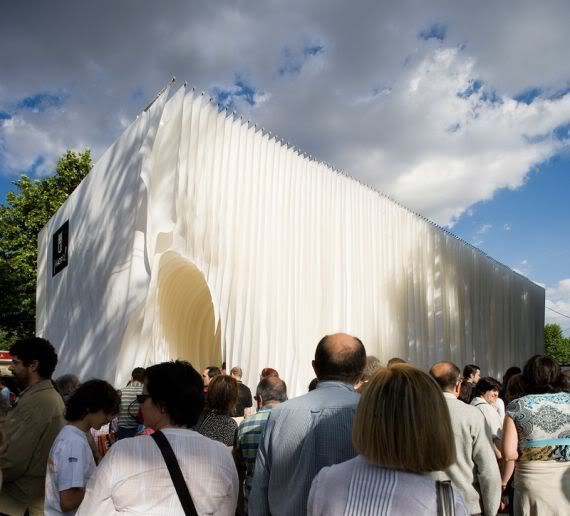 Olga Sanina + Marcelo Dantas: Ayuntamento de Madrid Book Fair Pavilion
Architects Olga Sanina and Marcelo Dantas won the international competition for the design of the Pavilion of the Ayuntamento de Madrid with a proposal titled «La Casa de Librio» (The Book House), built for this year's edition of the Madrid Book Fair.
«Walking through pages» - such were the words used by blogger Judit Bellostes to describe this object, like a «book built with pages, vertical sections used to generate an internal cavity of organic topography».
¶ Read the rest of this entry