Bodø International Design Competition
Published Wednesday, March 25, 2009.
---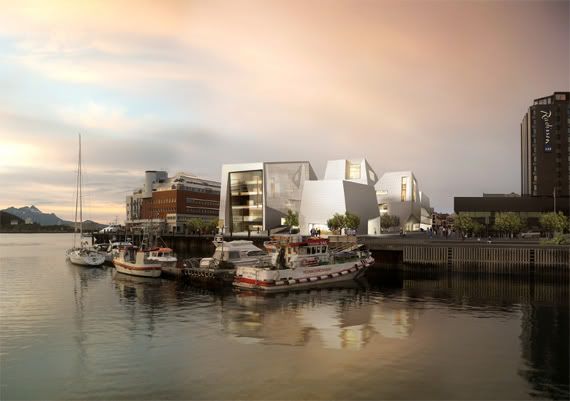 Bodø Kulturhus and Library proposal by Langdon Reis Zahn.

Foram anunciados recentemente os resultados da última fase do concurso internacional para o centro cultural de Bodø, na Noruega. A competição foi ganha pelo estúdio londrino drdh architects com uma proposta bastante interessante que explora um equilíbrio cuidado entre a escala e a transparência dos novos edifícios. O projecto pode ser visto no Bustler.net - ver link.
O Bustler também dedicou um artigo ao projecto da equipa Langdon Reis Zahn, de que faz parte a portuguesa Ana Reis e cuja proposta inicial foi publicada aqui no blogue há alguns meses - ver link. O trabalho da LRZ recebeu bastantes elogios pela relação estimulante entre massas construídas e os espaços públicos – uma galeria de imagens pode ser vista no sítio web da equipa, aqui.

The final results for the Bodø Kulturhus and Library International Design Competition have been announced recently. London based drdh architects won the first prize with an interesting proposal that explores a careful balance between scale and transparency of the new buildings. Their project can be seen on Bustler.net - direct link.
Bustler has also published an extensive article on the submission presented by studio Langdon Reis Zahn - direct link. LRZ's design featured an engaging connection between built masses and public spaces – a full set of images can be seen on the studio's main website, right here.